But of course!
The Iron Studios website has 03 platforms and is on 03 different continents.
If you live in the European Union we suggest choosing the Europe option. Or, if you are Brazilian, visit our Brazil page.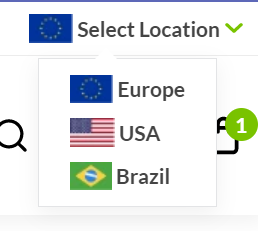 Does this mean that our US site does not ship outside the United States?
Noops!
We ship to almost every country in the world, but it's important for you to know:
As displayed at the product page, we do not collect custom fees, duties, sales taxes, etc. during your purchase with us. Since those possible charges are not included within our online purchase experience, please be aware that you may be charged by local authorities upon product arrival.
It is your responsibility to investigate the amount of taxes and duties that you may owe according to the country you selected to receive your order.
At Iron Studios, we use harmonized code that we have been told is appropriate for the shipping of our products. Your local customs office has the power to change this code on its discretion. If you feel the final code/tax is not accurate, please contact the carrier and/or customs office directly to request a review.
If you refuse/do not pay necessary costs of a package due to import fees, customs fees, duties, etc., you will be responsible for any charges against Iron Studios, including the return shipping fee that the carrier may charge to return the order back to our warehouse.
Upon the return of this order, we will refund you from what you paid, except for original shipping cost and return shipping cost. If it was a pre-order, we will also retain the non-refundable deposit.
If, for any reason, Iron Studios is unable to receive the order back at its warehouse, your refund will not be issued.
For further information on refunds, please check our Refund Policy.
Tchau! Bye! Adiós! Au revoir! Sayõnara! Auf Wiedersehen!